I'm one of those people that love to plan - lists are my favorite things! (Executing these plans - that's a different matter entirely.)
Anyhoo, there's a couple things I'd like to participate in the next few months, plus a vacation I'd like to sew for, etc. Plans seemed to be a good thing...
Here's the list:
1. PatternReview Contest - BestPatterns contest. I'm planning on sewing Simplicity 2443 - the very cool Cynthia Rowley jacket, in a cream/beige solid. (Fabric from stash, a gift from my aunt. Thanks, Chandrama!)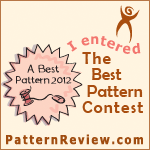 The deadline: May 15. (Umm, get going, Reethi.)
2. PatternReview Contest - One Yard Challenge. During PR Weekend in Montreal (way back in 2009, I believe, gulp!), I bought this gorgeous green fabric with bright pink flowers on it, expressly to make a simple skirt. The fabric was $17 a yard, and I therefore only bought a yard. I'm going to sew it on the cross-grain. I'm searching for the perfect pattern for this - I'd like a minimum of seams, so as to not break the pattern up.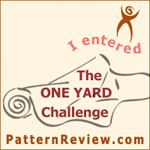 The deadline: Also May 15. (I guess I know exactly what I'm doing this weekend.)
3. The
2012 Summer 6PAC Seasonal Collection Sew-Along
is intriguing. I'm going to use whites and beiges as my two basic colours, I think. Related to this, I'll be sewing...
4. I've told myself the only way I can buy a June Burda Style magazine is to sew one thing from the May issue, and one from the April issue. For May, I want to sew pattern 127 - it's a jacket, in a white eyelet (possibly underlined to give it a bit of structure.)
5. And from the April issue, the cool sailor pants. (I can't be bothered to navigate the increasingly piss-poor Burda web pages. Burda's one of the few companies whose web presence seems to get worse over time, not better. Its rather staggering in it's complete lack of functionality.) The sailor pants - I'm thinking in a white linen-looking fabric.
6. If I magically find spare time after all of this, I'd like to sew a cream cardigan and a cream inner shell. My fabric is wool, which might be a bit warm for May, but (a) Toronto weather is unpredictable, (b) my store-bought cardigans are crying to be replaced and (c) I need to use the stash!.
4, 5 and 6 will work with the constraints of the 6PAC sew along.
7. Also, if I magically find time, another pair of PJs. I've been living in the pair I made for the PJ Party, I love it to death, and making another one sounds lovely!
Ahem. Well, I'm certainly ambitious, right? 8 items, 20 days? Sweet, crazy Reethi.